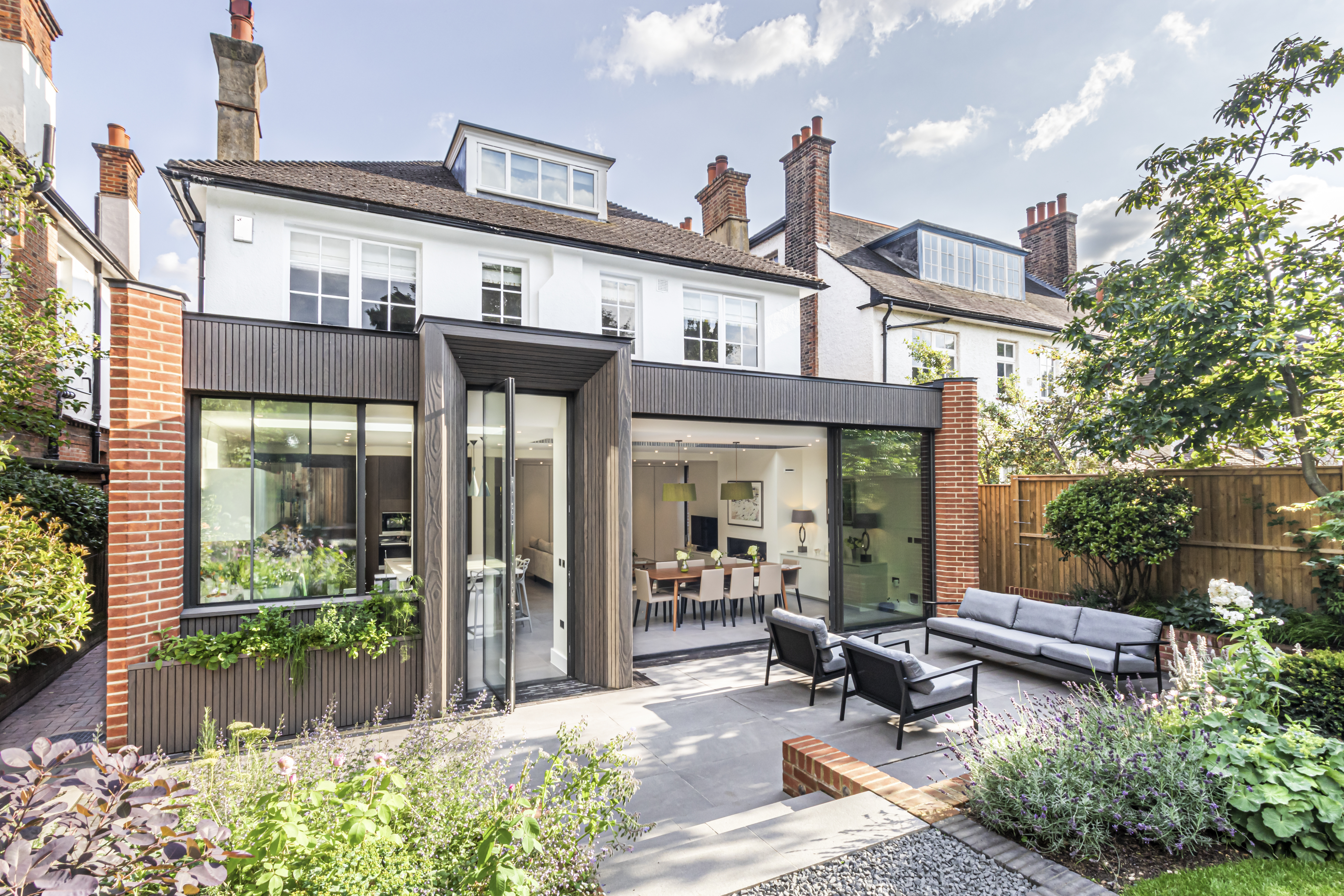 Rodway Road | Roehampton | SW15
The key priority of this project was to create a large, light and open kitchen/dining and living area, that had a strong relationship to the beautiful rear garden. We added a large rear extension across the full width of the house, that combined the existing kitchen and living room and also incorporated a dining area and utility room. Due to the orientation of the site and the fact that a lot of sunlight was gained at the front of the property, we connected this new rear space to the front drawing room with double doors - meaning the entire living area on the ground floor could flow as one space. A new study was created in the existing dining area to the front of the house.
We also carried out some reconfiguration and refurbishment works to the upper floors, however, the priority was the rear extension. Due to the mature nature of the existing garden and the design for the new garden that the garden designer came up with, we sought to use natural materials for the rear elevation, which blurred the boundary between the inside and out and created a softer feel for the extension. The clients were very open to exploring interesting materials and liked the idea of timber.
Charred timber (Accoya) cladding was chosen due to it's durability and also due to the texture that really comes through during the charring process. Different width planks were used to highlight the framing around the pivot door, which is used as the main, every-day access door to the garden. A fibre-glass planter in front of the window, clad in the charred timber also helps to soften the extension and connect it to the garden - intended for growing herbs in front of the kitchen window. The cladding is bookended by two chamfered red-brick piers on either end - which reflect the materials of the existing house and help to tie the rear extension to the rest of the house in a more contemporary way.
Large sliding doors and a large sliding window in the same system were fitted either side of the pivot door on the rear elevation - which allows the internal space to be opened up to the garden. They also frame the extensive views of the large garden as soon as you walk into the space.
Two large roof lights - the largest surrounded by the charred timber in the internal reveals, allow large levels of light into the space - creating a very open and spacious room that benefits from sunlight at different times of day.
Return to projects