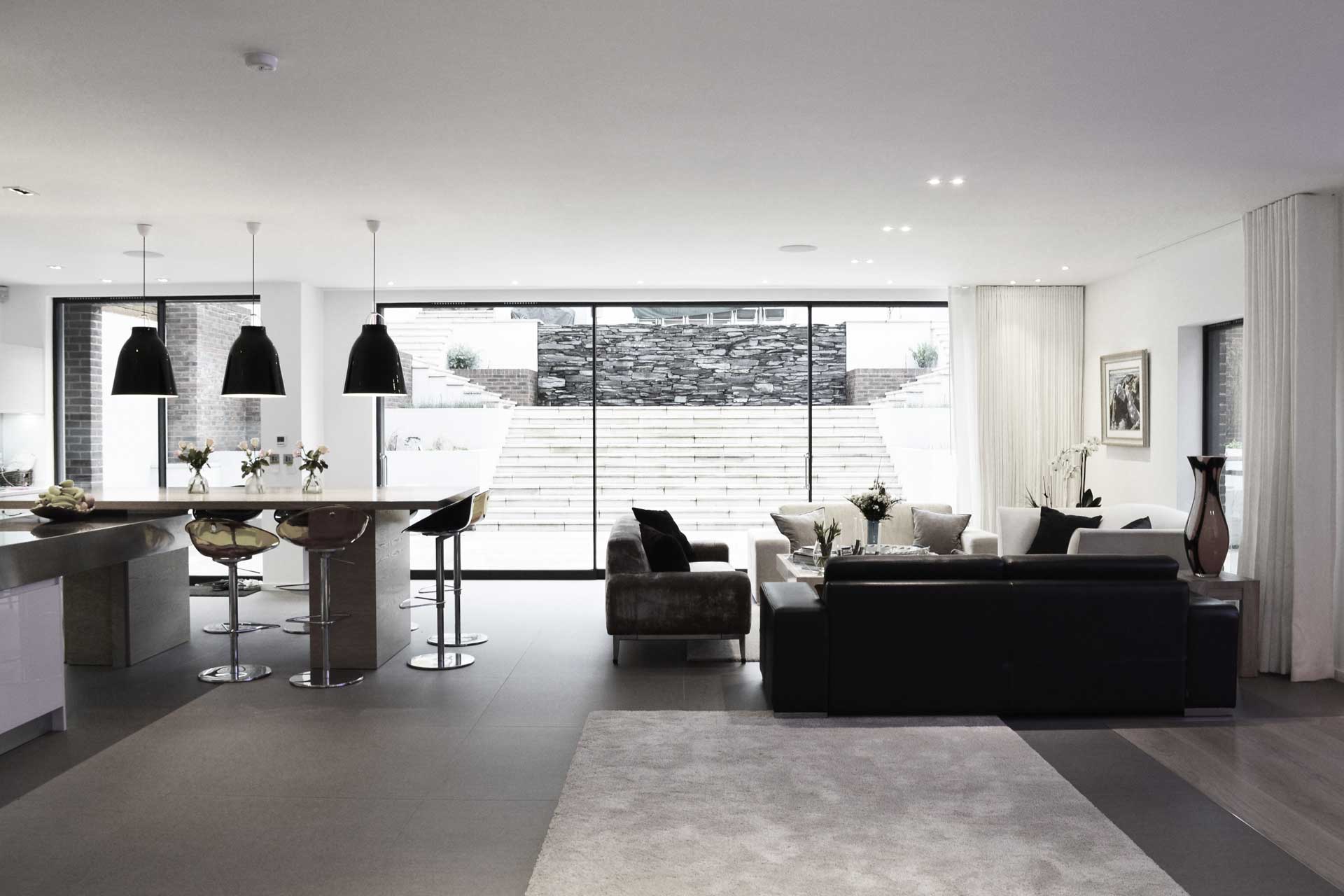 Home Park Road | Wimbledon | SW19
This project involved the construction of a new detached house in Wimbledon, on the site of an existing 1920's house that had been extended many times, resulting in a piecemeal development of no architectural value.
A 3-storey, 750m2 house was designed in it's place, to use the full potential of the site, incorporating the house into the steep contours of the land. A micro CHP boiler, green roof, photovoltaic panels and high levels of insulation were fitted to create a highly sustainable dwelling – with 18% of all energy used in the running of the house produced on site.
The large basement houses a party/entertainment area that includes a subterranean swimming pool and steam room, games room and bar area – all with feature coloured lighting and Sonos.
A sculptural feature staircase creates a focal point at the centre of the house, linking all floors and sweeping into the ground floor entrance hall. At first floor level the curved half landing of the stairs acts as a gallery with recessed alcoves to display ornaments and artwork. These illuminated alcoves continue into the living room and bedrooms. The kitchen/dining area to the rear of the ground floor includes a seating area and modern gas fire. The large sliding doors open out onto the lower patio and steep terraced garden – which was terraced to create different areas along the steep slope. An external dining area, with built in seating and a fire pit was created at the top of symmetrical winding steps with built in planters, from the lower patio level. A water feature sits centrally, with water flowing down a slate wall from a top pool into the bottom.
On the upper floors, 6 bedrooms, all with ensuite bathrooms were created. The open-plan master suite has a dressing area and ensuite, with feature floor finishes and recessed uplighters. A the shower is separated from the dressing room by a glass screen.
Return to projects