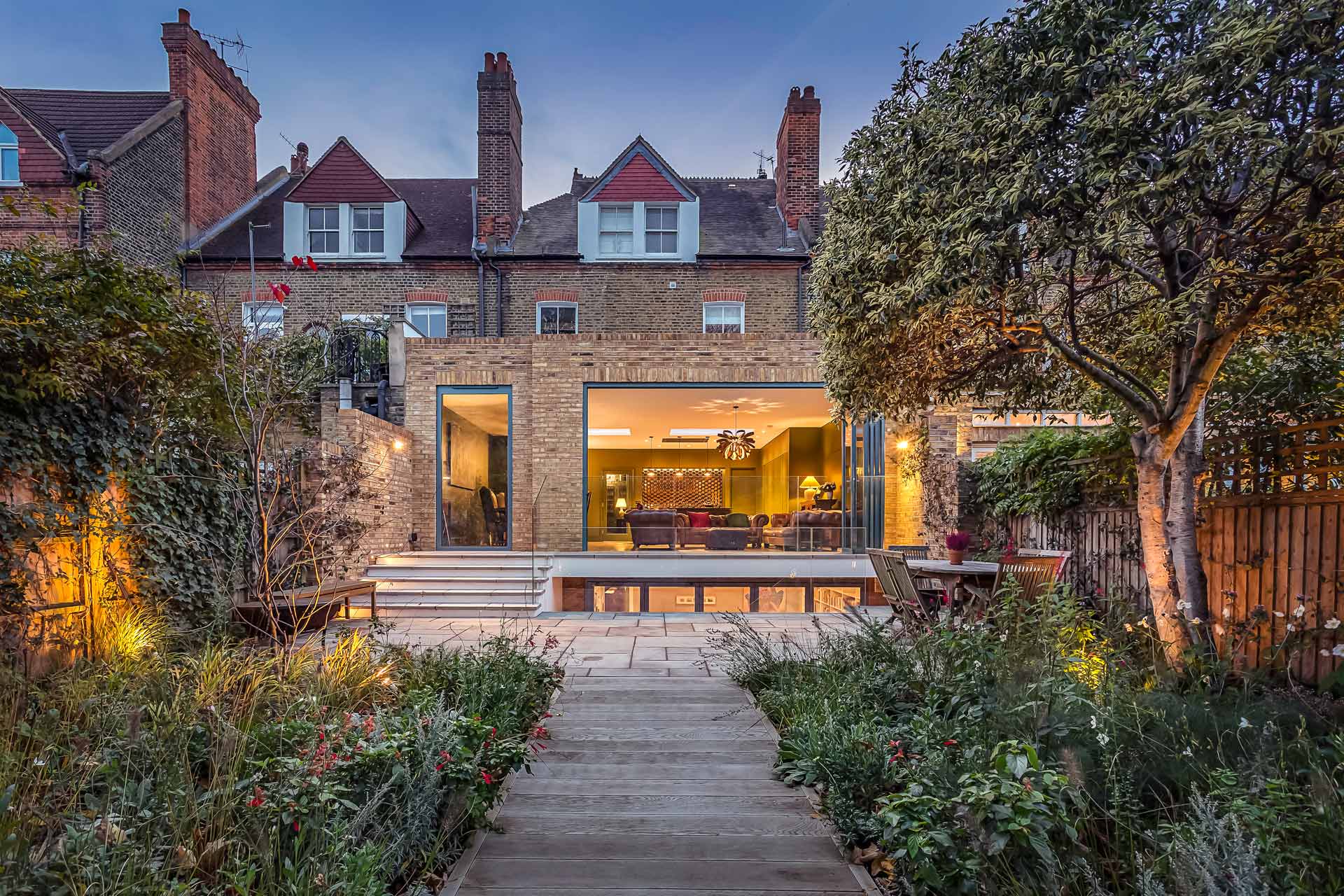 Bolingbroke Grove | Wandsworth | SW11
This project involved the transformation of a Victorian terraced house, by extending and reconfiguring the ground floor, enlarging the basement, reconfiguring the first floor and all bathrooms, a whole-house refurbishment and garden works, which included the design of a new shed to be used as a gym.
The underused basement was fully waterproofed and extended to the front and back of the house and new light wells were created in order to get light into the habitable spaces within. A new guest bedroom, media room, playroom, utility and shower room was created.
The basement was better connected to the ground floor through the repositioning of the staircase down. The existing access to the basement was through a separate narrow stair from the ground floor kitchen and was closed-off by a door. Instead, we extended the grand main staircase of the house down into the basement, opening up a larger void between the ground floor entrance hall and the basement hall. This not only allowed natural daylight into the basement but made the basement feel part of the house.
To the rear of the house, the light well had steps up to the garden, which created another connection to the basement.
On the ground floor, we replaced an existing, dated rear extension with a new extension and completely reconfigured the spaces - in order to create a large open-plan kitchen/living/dining room, which overlooked the garden. This opened up onto a balcony over the new basement light well and steps down led to the garden level. Bi-folding doors on the ground floor and in the basement playroom below, above and below the new balcony, created a coherent aesthetic to the rear elevation and provided a visual connection between the ground floor and basement living areas.
The ground floor design revolved around the kitchen - which we designed and spent a long time developing details and specifying materials/finishes with the clients in order to meet their brief of a kitchen that didn't look like a kitchen - given its position in the main living area of the house.
Externally, we designed the garden layout and specified hard-landscaping. We also designed a shed at the bottom of the garden, which was used for storage and as a gym area.
Return to projects